Latest Titles

Latest Additions to our Collection
most of our matches are available to download and all are on DVD compilation ...
links to our Bamazoo shop for downloads are given below ...

++++++++++++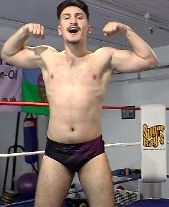 Spotland Slamdown
Gypsy uses smashes and slams to wear Joey down
in this custom Brit Pro match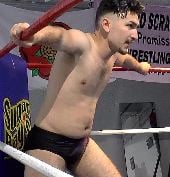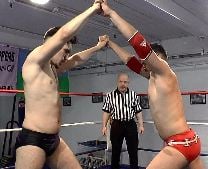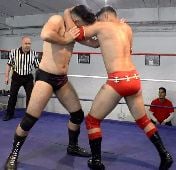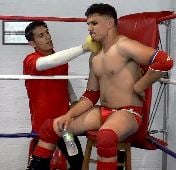 Gypsy Joe
v
Joey Eden
with Referee Nigel Crabtree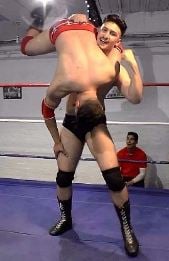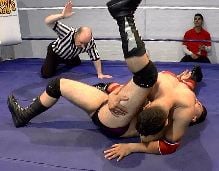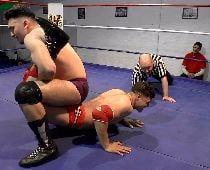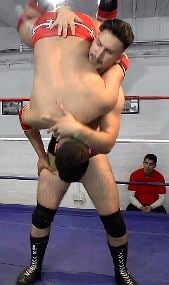 Download
:
Buy Now
Sponsored by Batley Basher
"Really very good."


"Great to see Joey back in action with Gypsy Joe in a very active and entertaining bout ..."
"Watching the bout brought back memories from my visit when you see the pinfall move that I was taught
and seeing the correct way to do the body slam ... amazing what you can pick up in the Spotland experience."
"Thank you for the prompt delivery of my latest DVD.
Really enjoyed the two energetic Brit Pro bouts featuring outstanding performances by GJ and LJS.
Ray Junior always gives of his best and likeable Joey is always a pleasure to watch.
Congratulations to all the team. Can't wait for more of the action."


"Spotland Slamdown - loved this match as bodyslams one of my favourites.
Fast and well paced jobber-heel scenario with cheeky confidence from Gypsy Joe.
Love the flexing his bicep as he slams his hapless opponent yet again. Brilliant!"
++++++++++++


Ray Jay's Scissors

Ray catches newbie Pete lifting weights, laughs at his "chicken legs"
and challenges him to a scissors match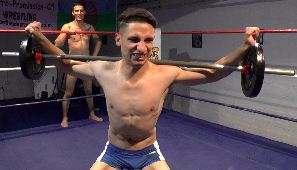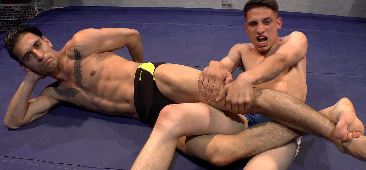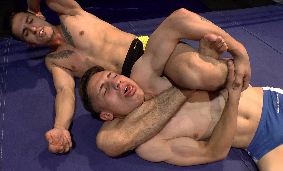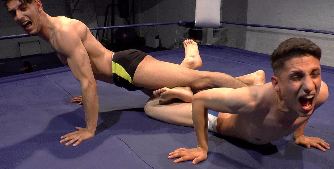 Ray Junior
v
La'al Pete

"Good to see Ray Junior enjoying a Scissorfest"
++++++++++++


La Baguette
Ady threatens to break his French opponent in half!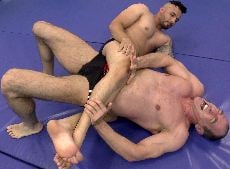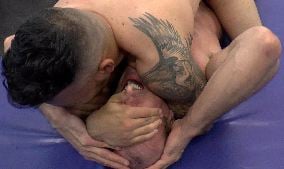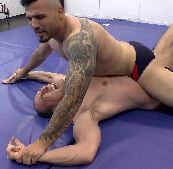 Young Ady
v
Eti Eiffel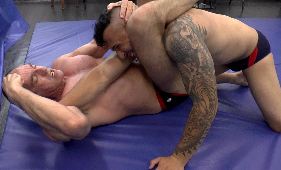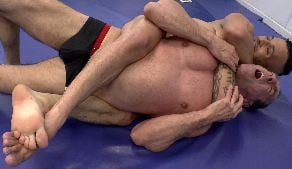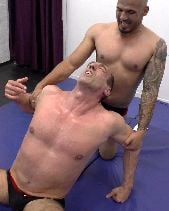 Download
:
Buy Now

"I liked the trash talk at the start ... a great match."


++++++++++++


French Fries

Our Parisian guest wrestler gets a surprise from Spotland's two chipper small fries on the Oil Zone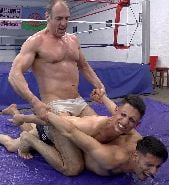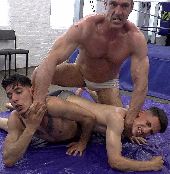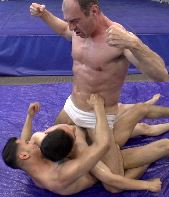 Eti Eiffel
v
Ray Junior
&
La'al Pete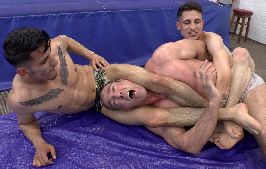 Download
:
Buy Now

"I just purchased French Fries and like to say how great the match and filming is ... I enjoyed it from start to finish ..."


++++++++++++
Phoney War
Ray Junior has been stealing from the locker room.
When four of the guys confront him, RJ says he can do what he wants because he's the boss.
They challenge him to prove it by fighting each one of them in turn.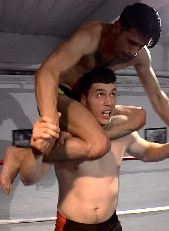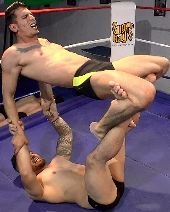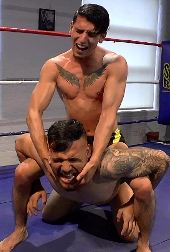 Ray Junior
v
Young Ady
-
Lofty Valentino
-
LJ Silva
-
La'al Pete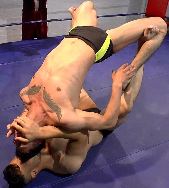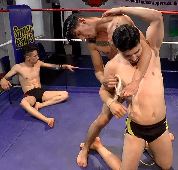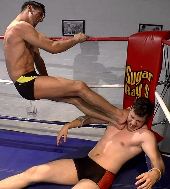 Custom Match Sponsor
Keel Hauler
"Just finished watching ... it was great! Loved how you incorporated so much of what I asked."

"Good lively production with Ray giving a lesson to the Four Just Men"


++++++++++++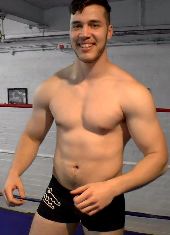 Striker Pose 1 & 2
Bodybuilder Lofty Valentino expects to overpower his opponents easily
in a double-header of ring promission contests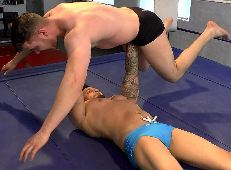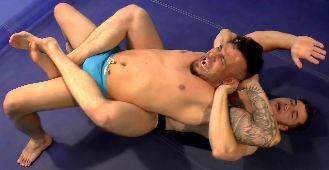 Lofty Valentino
v experienced all-round grappler
Young Ady

Downl
oad
Striker Pose 1
Buy Now

"... type of match I enjoy to do myself and also watch ... Ady being his usual self, good opponent that gave him a challenge,
I liked the bit of talk at the start ... Ady is looking his fittest yet!"

"Lofty the powerhouse against the master of submission holds Ady."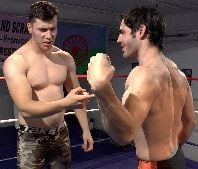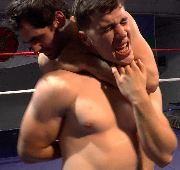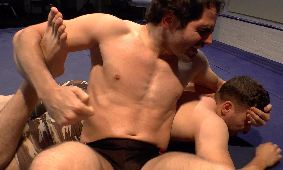 Lofty Valentino v Jon Bilbao blue belt in Brazilian jiu-jitsu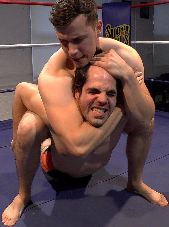 Download
Striker
Pose 2
Buy Now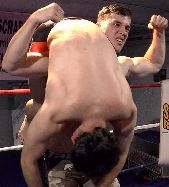 "Just downloaded these latest two matches to my collectIon.
Absolutely brilliant wrestling. They don't get any better than Spotland Scrappers.
Best wishes guys and keep up the good work."


"... excellent ... like the Spanish guy ... one of your best guests."
++++++++++++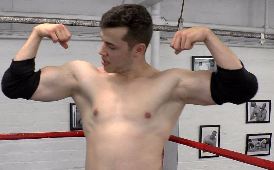 Lofty Valentino features in two custom matches
Dirty Habits 1
Lofty uses more power moves but LJ Silva is better at brawling and fighting,
until one of the guys dominates towards the end and produces an unusual flying knockout finishing move.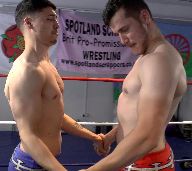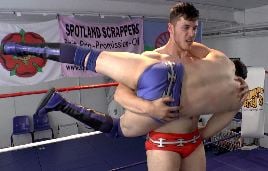 Download: Buy Now
Lofty Valentino v LJ Silva
Dirty Habits 2
again there's more slams and bearhugs than grappling,
with powerful Lofty trying to deal with cheating moves from Gypsy Joe
as the match develops into a brawl and a knockout win!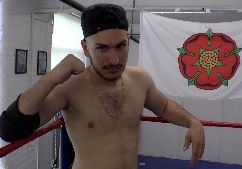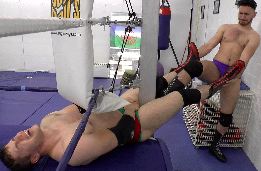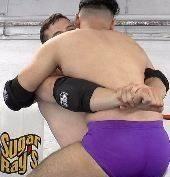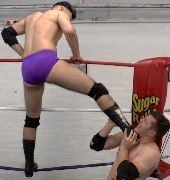 Gypsy Joe v Lofty Valentino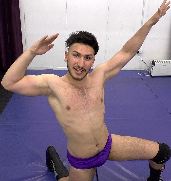 Download: Buy Now
Thanks to our Sponsor
Arstosur Customs
"... very much enjoyed the latest releases featuring Lofty Valentino.
I particularly appreciate the excellent camera work. I also find the sound very well done;
it is fun to hear the wrestlers talking to each other and revealing something of their personalities.
The videos are fairly priced and I like the "sporty" and unsleazy production values."
++++++++++++
Spladle Splits 2
spladles tapout custom match on the grapplezone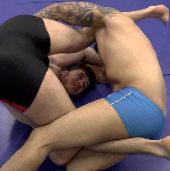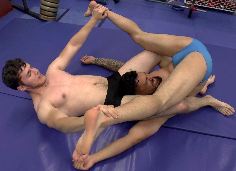 Lofty Valentino v Young Ady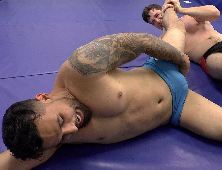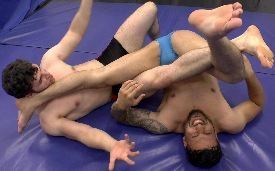 Download: Buy Now
Sponsor
Canephorus
Thank You!
"Really enjoyed this match. Great technique and ability. Spotland Scrappers are terrific guys."
"Great splits!"
++++++++++++
Take It Two!
slam & bridge themed custom match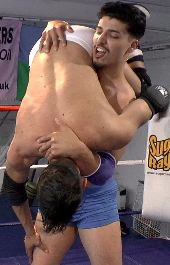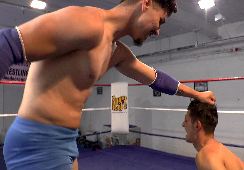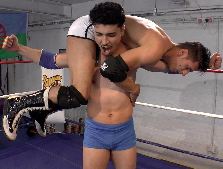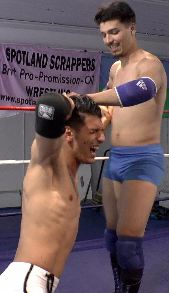 LJ Silva v Ray Junior
Download: Buy Now
Sponsored by Cloud One Customs
"Thanks so much for all the hard work, I really appreciate it!"
"I've just been watching it and have a smile on my face. Great action from Ray and LJ, perhaps in old money a catchweight match?
Inventive, amusing and entertaining and some rather unusual moves.
Love LJ glorying in his power lifting Ray, and the tough feisty Ray showing his strength too lifting his bigger opponent.
Must compliment you too on the quality of the filming and production values overall - very good."
++++++++++++


Sammy Scrapper returns in Renatus 2
we're delighted to see Sammy back looking pretty fearsome
as he laughs at "skinny boy" Pete in this ring baptism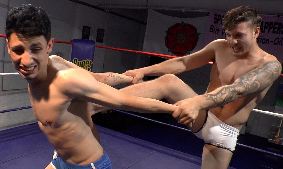 Sammy Scrapper v La'al Pete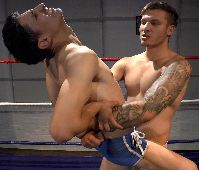 Download: Buy Now
++++++++++++

Retro Vibe Plus
a double-header for those with a soft spot for singlet squeezes to enjoy ...
will Lofty be able to match Silva's more brawling style?






Lofty Valentino v LJ Silva
PLUS
a dip into our archive to see two of our stars before they were famous!


Sammy Scrapper v Ray Junior

Download: Buy Now

"Congrats on the latest releases - I really enjoyed them. The guys have real ring presence ..."
++++++++++++
Bullseye Beatdowns 2
LJ Silva gives Ray Junior a boxing lesson




featuring LJ Silva v Ray Junior
PLUS
punchy clips from
Dirty Habits 2 - Renatus 2 - Spladle Splits 2
Stream / Download as part of our Beatdown Boyz series on Gumroad:
Buy Bullseye Beatdowns 2

++++++++++++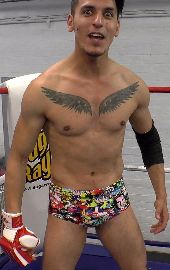 Comic Capers
Ray Junior & LJ Silva are even dizzier than usual
as they find themselves locked in a comic book story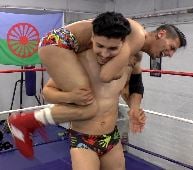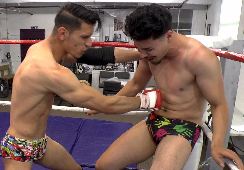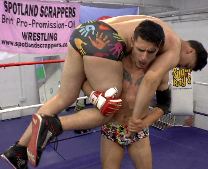 Ray Junior v LJ Silva
Download: Buy Now
Custom Match sponsored by Baker Daze
"This one certainly put a smile on my face, really a quite original and unusual match.
I do like the way these two work together very well, and the sense of fun."


++++++++++++

Introducing Matt Fletcher in Off The Mark


31 year old Matt from Sunderland is 6ft and 85kgs so presents a serious challenge to young Rob.
One of Matt's hobbies is archery and he's targeting a victorious Spotland debut.
available on DVD
++++++++++++


This is more of a fantasy fighting scenario than a wrestling match
with punches and grappling/chokes rather than wrestling/submission holds.
Ray and Silva are known as the best fighters in their regions.
Both guys are too cocky to share such a title, so they decide to meet up and fight it out.
They've agreed to a best out of three fights, with the winner declared by knocking out his opponent.
The last man standing wins, and can proudly claim to be the better fighter once and for all.
Both guys are confident they'll be the one walking away victorious.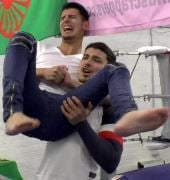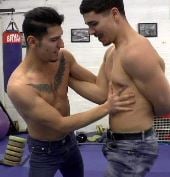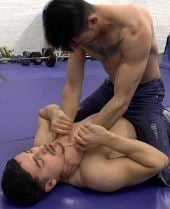 Download
:
Buy Now
Custom Match sponsored by Mike Tekken
"I've watched the video several times since you sent it and really enjoyed it. Thank you so much!
I'm definitely keeping you in mind next time I want to order a custom!"
++++++++++++


Matt Finish
The match is heavier guy vs smaller guy but the lighter one is experienced and a better wrestler.
The fight is more of a brawl as both guys use their fists, forearms, uppercuts.
Matt uses power at times with slams and bearhugs against the resilient Ray,
who beats up Matt in & outside the ring.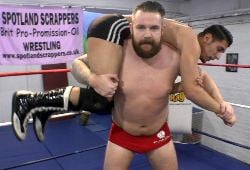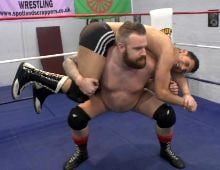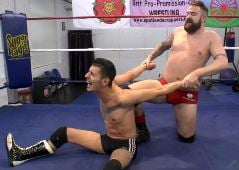 Matt Fletcher
v
Ray Junior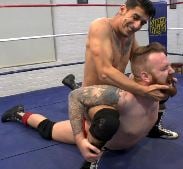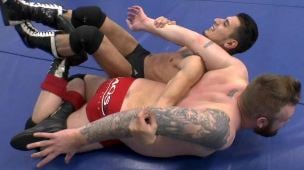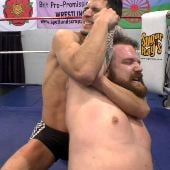 Download
:
Buy Now
Custom Match sponsored by Arstosur Customs
"This is an amazing custom, please tell the guys how good they are ..."
"... keep making great matches ... happy to support you guys ..."
++++++++++++


Bush Wacked
Johnny "Aussie" Hall makes a welcome return
against the lighter but lively Rob Palomino
in this catchweight contest scheduled for 8 x 3min rounds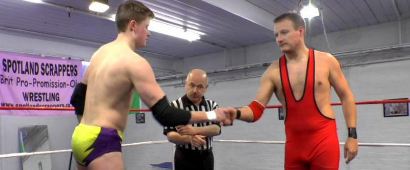 Rob Palomino
v
Johnny Hall
with Referee Nigel Crabtree
available on
DVD
++++++++++++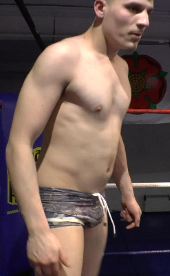 Introducing Franky Dare
in
Frantic Franky
Raw rookie Franky Dare makes his debut against stockier & experienced Sammy Scrapper.
The match turns into something of a schoolyard scrap as Sammy struggles to control Franky who's like a Jack in the Box!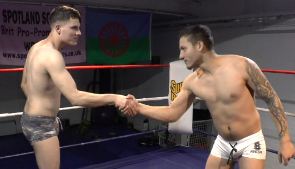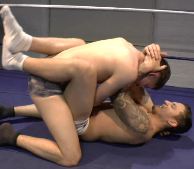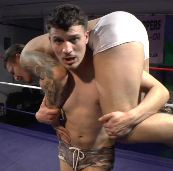 Sammy Scrapper
v
Franky Dare
in
Frantic Franky
available on
DVD

"... good to see Da Boss taking Frank to school ..."
++++++++++++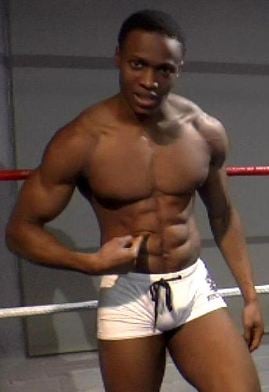 Introducing 8 Abs Aris
Abs Fab
Young Ady gives a warm Spotland welcome to 8 Abs Aris
a fitness model & novice wrestler making his debut in this promission match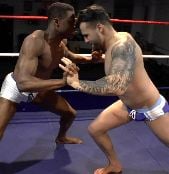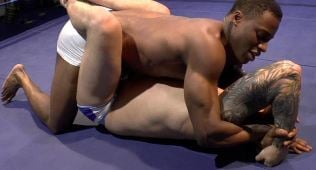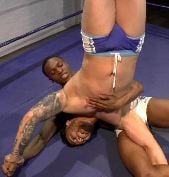 Young Ady
v
8 Abs Aris
in
Abs Fab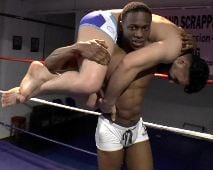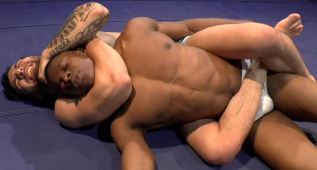 Download
:
Buy Now
"Absolutely Fabulous Match"
++++++++++++
Spladle Splits 3
They might be gym buddies but Ady dominates trainee Beni in this custom match
demonstrating spladles, kneebars & toe holds with the guys casually attired in tracksuit bottoms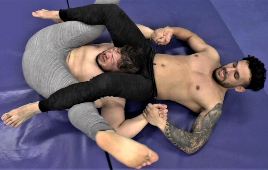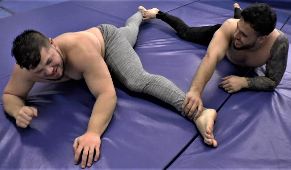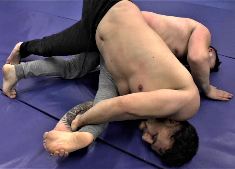 Young Ady v Beni Zotmar

"The content is all there and it's everything we wanted"

++++++++++++
Travellers Trials
Young Ady introduces newbie Traveller Tom to some moves
and just when Tom thinks he's survived the punishment
Flavi enters the ring to bring him more tribulation directed by Ady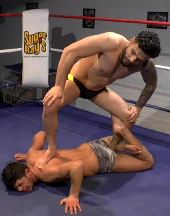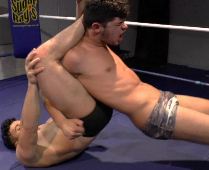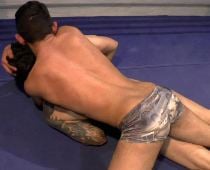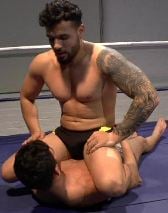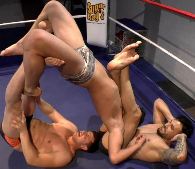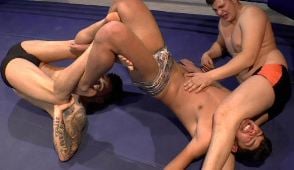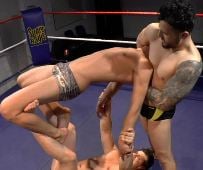 Young Ady & Flavi Forza v Traveller Tom
Download: Buy Now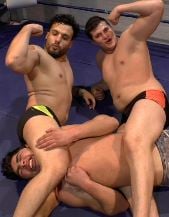 "good fast moving bout finishing up with 2 on 1
always good to see some surfing as part of the Ady introduction to Newbie aka Traveller Tom"
++++++++++++

Boxer Shorts 3 & 4
two trainees go head-to-head
then join forces to take on Sammy Scrapper in a 2 v 1 scenario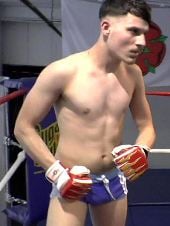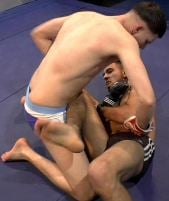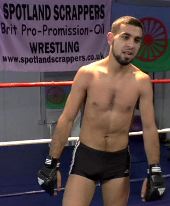 Franky Dare v Das Taser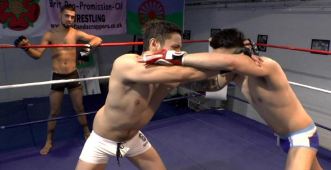 Franky Dare & Das Taser v Sammy Scrapper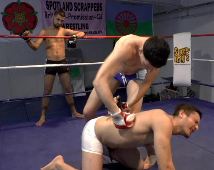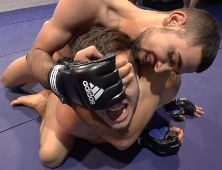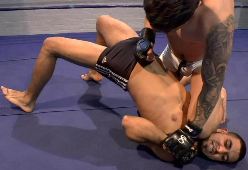 Stream the latest in our Beatdown Boyz series on Gumroad: Buy Boxer Shorts 3&4
++++++++++++
Bridge 2 Far
Slam & Bridge themed practice
with Franky learning to bridge the hard way
as Sammy enjoys the job of rookie wrecker!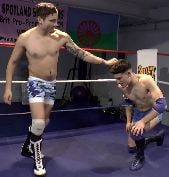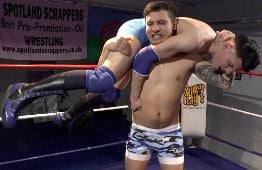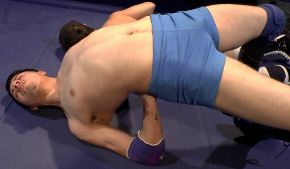 Sammy Scrapper v Franky Dare






Download: Buy Now
"... the action is quite good -- really impressive for his second ring appearance. I think Franky is gonna be a nice addition!"
"... custom match training footage really enjoyable ... DA Boss is back!"
++++++++++++
*** Winter Warmers ***
There's snow on the ground at Spotland Towers
so we've put together some extended clips of our recent promission-style matches
on our Vimeo Channel:
https://vimeo.com/255420657
++++++++++++

Rag Tag
Introducing Joseph Barbera making his debut in a ring promission match with Sammy Scrapper.
Followed by tag team mayhem and a welcome return for Manni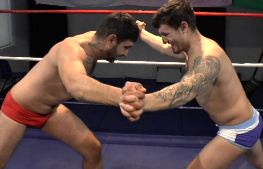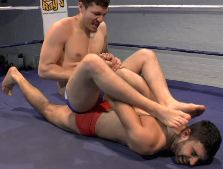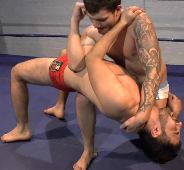 Sammy Scrapper v Joseph Barbera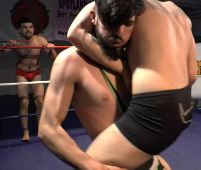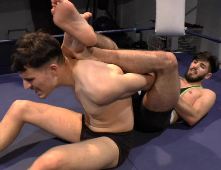 Sammy & Manni v Franky Dare & Joseph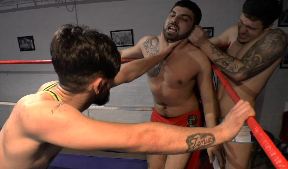 Download: Buy Now
++++++++++++


Bees Whacks
three guys fun wrestling in a mixture of honey and oil
specially formulated by Sammy!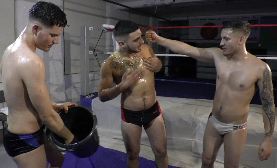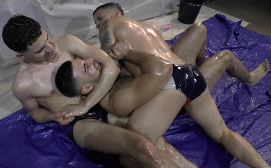 Sammy Scrapper with Franky Dare & Joseph Barbera
Download: Buy Now
Match Sponsor: Lionel Messy
"Really enjoyed the bout - good to see some new wrestlers (although I'll always have a thing for Ray Junior and Ady!)
It looked like the three guys really enjoyed making the shoot and I thought the build up to the fights was really well done.
Loved the way the lighting showed off the gunge ..."
++++++++++++
Egg Tagging
Those of you who have been following us for a few years will be delighted to see the return of Sam Smiler
partnering newcomer Franky Dare in a tag match against the Brothers Grimm
for the Spotland Easter Egg Championship!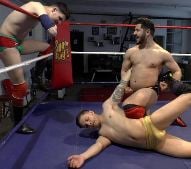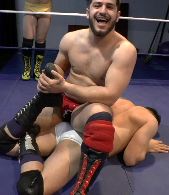 Young Ady & Sammy Scrapper v Sam Smiler & Franky Dare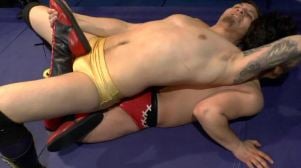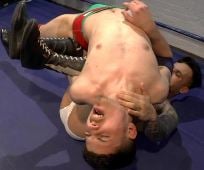 Download: Buy Now
"... That must have been a great bout to film and edit ...
plenty of old style Spotland from the Three Amigos and Franky is coming on well.
Good choice of gear enhanced the colour aspect and good flow of holds in the bout ...
10 out of 10 for the production ..."

++++++++++++

Outsiders
a trlogy of pro style custom matches
featuring
Young Ady with his henchman LJ Silva
v
Ray Junior leading "The Rookies"
Sammy Scrapper, Joseph Barbera & Franky Dare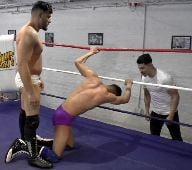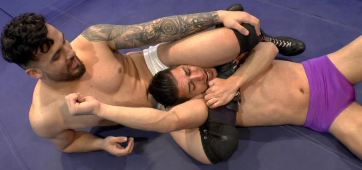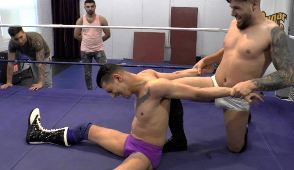 Young Ady v Ray Junior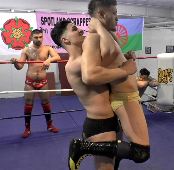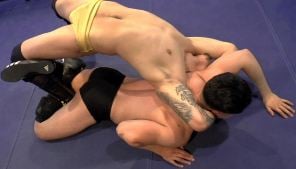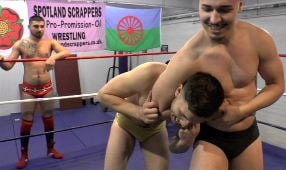 LJ Silva v Sammy Scrapper & Joseph Barbera






Young Ady v Sammy, Joseph & Franky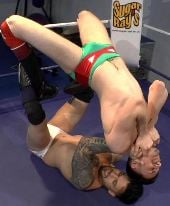 plus a few surprises along the way!
Download: Buy Now

With Thanks to our Sponsor
Rob Atlanta
"... the guys did a great job of capturing the spirit of what I was looking to produce.
I really appreciate how they tried to immerse themselves 'in character' to deliver.
Ady was especially good -- both his action and his smack talk. Really well done. And of course Ray made for a great jobber.
So please extend my thanks and appreciation to the lads."

"Well done for all Team Spotland on show must have been a lot of work to produce.
Plenty of good wrestling content with individual and combination attempts
plus Ady's own signature surfboard on display ... smiles and enthusiasm."
"So glad I purchased 'Outsiders.' Brilliant!"

++++++++++++

Sauvé Par La Cloche
French Wrestler Yourek challenges Young Ady
for the Spotland Pro Championship Belt
in this classic sporting contest
scheduled for 8x3min rounds






Young Ady v Yourek with Referee Nigel Crabtree





Download: Buy Now

Sponsored by Paul Bonaparte
"That was a classy contest between two classy wrestlers."

"A really fantastic Brit Pro match, brilliant wrestling and wow no one executes the surfboard better than Young Ady,
that's why Spotland Scrappers are the best."
"... it's well edited and Ady did some brill bridge moves too ...Great stuff."
"Great atmosphere and camaraderie."

"Really enjoyed the 'World Of Sport' style Title Belt match between the lads.
Plenty of collar and elbow locks leading into some great technical moves and counters.
Ady reeling off the 3 in 1 Zoltan Boscik hold ...
Ady showed his wealth of experience with holds whilst Yourek was just managing to stay with him.
The final fall came from the Steve Grey v Richie Brooks era with the pin fall nearly coming from the suspended surfboard
... enjoyed that combination attempt but was only a matter of time before the closure ...
well contested and sporting approach from the lads which came across throughout the bout."


"I thoroughly enjoyed it and could feel the atmosphere."
"... now no.1 in my list of all time favourite matches ... excellent camera work and editing."


++++++++++++

Hawaii Three-0
water match fun in our new larger pool!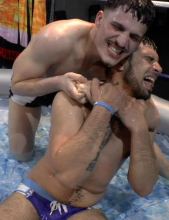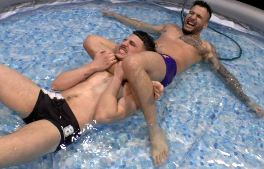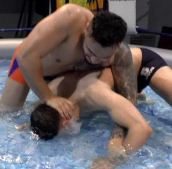 with Young Ady - Franky Dare - Joseph Barbera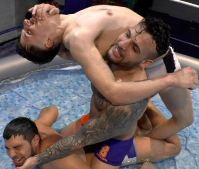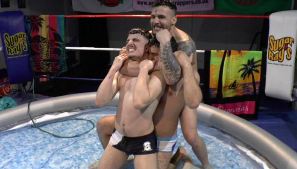 and our surf machine ...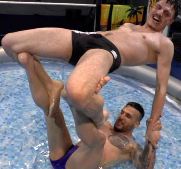 Download: Buy Now

Sponsored by Lionel Messy
"Really enjoyed watching the bouts -
the lads definitely went the extra mile given the temperature in the gym, but looked like they were enjoying it!
The new wrestlers are growing in confidence and look less self conscious in front of the camera.
Especially enjoyed the square cut trunks and the more aggressive action when they were throwing each other around
rather than the long holds (although Young Ady's scissor holds were a joy to watch!).
I thought the big pool really worked well, allowing for a lot more action than smaller ones,
and hope it can be the start of a series of pool bouts (although I won't be able to sponsor them all!)"
"... And what better place to apply a suspended surfboard hold than in the water?"
++++++++++++